Scale length – 645mm (25.4″) | Nut width – 45mm (1 3/4″)
Top – Solid European Spruce | Back and sides – Solid Siricote | Neck – Mahogany, set
Fingerboard – Ebony | Frets – 20 medium | Bridge – Ebony | Machine heads – Schaller with Ebony buttons
Finishes – Natural | Left-handed – custom order
Download the Guitar Buyer review as a PDF here
FINE TUNING
This handmade guitar from British guitar builder Russ Haywood pays tribute to one of Martin's best-loved designs, but adds a few subtle twists – Tim Slater
Russ Haywood is an accomplished luthier and folk guitarist based in Hastings on the South coast of England. As a gigging guitarist, Russ gets plenty of opportunities to road test his instruments and, most importantly, attract the attention of potential customers.
Being a skilled guitarist himself, Russ enjoys making a wide variety of acoustic and electro-acoustic guitars, but he also applies his considerable talents to many other fine traditional stringed instruments, including bouzoukis, mandolins and electric violins. For sure, in the face of such phenomenal big-name competition, the world of private custom luthiery is a brave endeavour for any builder, so what does Mr Haywood have to offer, to separate him from the crowd?
BODY & NECK

This guitar has a distinctive and very elegant body styling based on a Martin OOO model, but with a deeper body that measures 120mm at its deepest: the standard dreadnought-style body depth. Russ owns a rare mahogany Martin J-18M and his deep affection for the old Martin inspired this guitar, which took almost two years to complete, due to existing customer orders.
The solid European Spruce top is finished with a thin coat of water-based gloss lacquer, just thick enough to protect the top from 'ordinary' wear, but not thick enough to threaten the top's sensitivity to playing dynamics. If you are a vigorous, heavy player, it might be worth fitting a pickguard, as there's not one as standard.
The top's aesthetic trimmings reveal a strong Martin influence, while not falling into direct copy territory; the featheredge herringbone binding that trims the spruce top is lighter and less 'blocky' than the herringbone binding often used by Martin, for example. The soundhole features some very impressive inlay work too, with a 2mm ring of abalone resting between concentric rings of ultra-thin black pinstripes; the overall effect is subtle but very beautiful, and reveals truly impressive skills.
The guitar's solid back and sides are made from highly-figured Siricote, trimmed with maple and black/white/black pinstripe binding. Siricote is commonly grown throughout the southern USA, Mexico and South America. Its attractive, dark-chocolatey colour looks similar to rosewood, but Siricote has a far more dramatic-looking, widely-spaced grain; something clearly found on the guitar's back, which features an extraordinary book-matched grain structure.
The internal bracing is modelled after a standard Martin X-pattern, and Russ also tap-tunes the internal front and back bracing, using a strobe tuner to set the pitch of each individual brace to specific musical notes. Different luthiers offer varying opinions about the value of tuning the internal bracing, but most seem to admit that they employ tap-tuning as part of the overall process to a greater or lesser degree, because it improves the guitar's overall resonance and tone.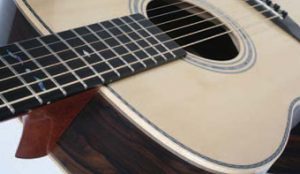 The Haywood Siricote's chunky, mahogany neck has a comfy 'C' that feels more like a traditional Martin acoustic guitar neck compared to the slimmer, more electric guitar influenced neck shapes preferred by companies like Taylor or even some of Martin's more recent models, which are slimmer and more speedy, compared with most older Martin guitars. The 645mm scale length is shared by Martin's OM and dreadnought guitars, longer than most Gibsons, which results in fairly taut string tension. Thankfully the action is fairly low, enabling lengthy playing sessions to float by with no hint of fatigue. In fact this guitar feels so easy and rewarding to play that you just don't want to put it down.
Ebony features quite heavily on this guitar, being used for the fingerboard, the bridge, the truss rod cover and veneer on the headstock facing. The bridge is a standard, pinned type with an uncompensated bone saddle. It's staunchly traditional and works just fine. Bone is also used for the nut and the overall finishing and attention to detail are excellent. The myriad bone-substitutes around work well enough, but as far as many guitarists are concerned, bone equals tone, having in our opinion a better fundamental sound that the somewhat more zingy-sounding man-made substitutes.
SOUNDS
Acoustic guitars don't set absolutely everybody alight with excitement, but you'd have to be a pretty cold fish not to get wrapped up in this guitar. Firstly, it has the most incredible projection; even softly picked or strummed notes carry across the room as though they have wings, but the tone remains sweet and doesn't sound overly compressed or distorted when the intensity picks up a couple of gears. This impressive dynamic range is matched by a sonorous depth and an uncluttered voice that gives every note plenty of room to breathe; even complex fingerpicking patterns sound incredibly spacious and every note rings out clearly. This alone makes the Haywood Siricote ideal for busy playing styles like ragtime or bluegrass for example, where clear separation between the bass, midrange and treble frequencies is vital.

The ebony fingerboard graces the notes with a distinctive percussive 'ping' but the Haywood never sounds thin or tinny, it simply cuts through with a clear, authoratative tone that almost sounds piano-like; it really is that strident and powerful. This is probably down to the Siricote back and sides, whose punchy-yet-mellow character seems to work brilliantly, and the longer scale length plays an important role too by giving the strings extra room to really vibrate and ring out. It's a sonic stunner that veers into Collings territory, and that is high praise indeed.